Make Yourself Available As
An Advisor On AdvisoryCloud
Create an advisor profile, set your hourly rate, and make yourself available for advisory work on the leading platform for advisors.

"To have this level of expertise advising us is incredible, and it would have been impossible to find them without AdvisoryCloud. I'm really looking forward to watching this advisory board and my executive team collaborate and drive BuiltSpace to further succeed and grow."
Rick Rolston
Founder & CEO
BuiltSpace


Learn how AdvisoryCloud works and see how an advisor profile can connect you with advisory work from inside and outside of your existing professional network.
Learn more about the features available on AdvisoryCloud
Your digital storefront to attract, monetize, and manage advisory work.
Make the most out of your experience by offering paid advisory services with an Advisor Profile.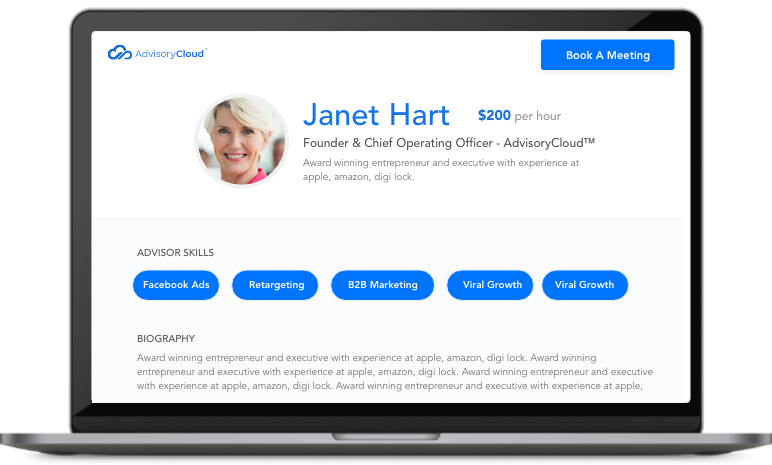 Digital storefront on custom URL
Payment and Booking Functionality
Marketing and Blogging Tools
Showcase your expertise, build your brand as an advisor, and receive advisor inquiries through your own personal link.
With your advisor profile established, any company or executive in the world can hire you for advisory work directly through your profile.
Leverage our tools and resources to connect to your networks and turn regular business interactions into advisory work.



Be listed in the largest public directory of advisors in the world.
You'll be available to any company or executive in the world seeking advisors with your AdvisoryCloud profile available in our directory.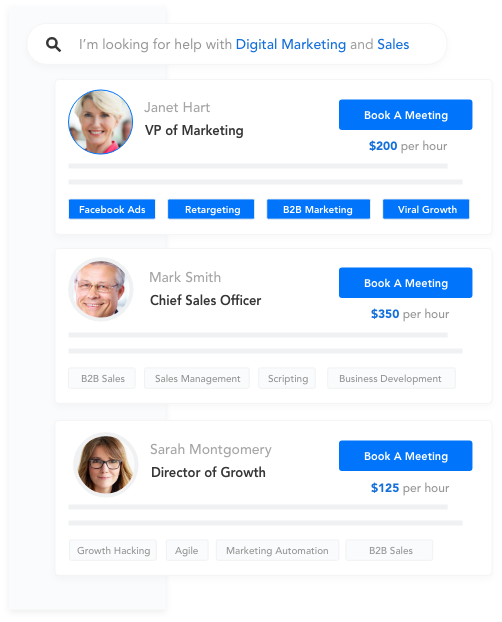 Direct your existing networks to your profile through our marketing and publishing tools.
Leverage our marketing tools to connect your profile to your existing network, publish to your audience, and drive traffic to your profile.
MARKETING AND BRANDING TOOLS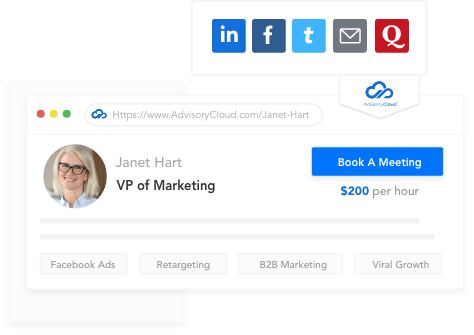 Access new monthly workshops with live support from our team.
Join fellow members each month for online workshops that help you have success as an advisor.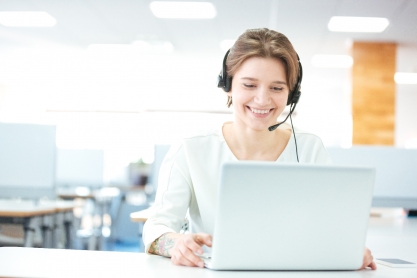 Let the world know you're available for advisory work
One-on-One Phone Meetings
Work with companies and executives seeking your advice through virtual meetings billed at your hourly rate.

Project Based Advisory
Work with companies and executives as an advisor in our project based format with pre-defined requirements and budgets.
Advisory Board Positions
Working in the meeting and project format with a companies can turn into more formal board positions.

Mentorship For Rising Executives
Work with rising executives who are interested in having a mentor to guide them through their career.
Start Ups and Early Ventures
Work with early stage startups as an advisor where you can make a big impact and potentially earn equity.

Read Our Case Studies

And Reviews
Hear from our successful advisors and companies leveraging AdvisoryCloud.
"AdvisoryCloud gave us access to dozens of precisely matched and brilliantly qualified professionals I never would have otherwise found. I signed up on a Sunday and by Wednesday had interviewed and sent a letter of offer to the successful candidate. Talk about high quality service at lightening speed."
Mary McDougall
Former President and CEO

AdvisoryCloud Customer Testimonials
Melissa Kargiannakis
Founder and CEO
Heuristext Inc.
"AdvisoryCloud gave us access to dozens of precisely matched and brilliantly qualified professionals I never would have otherwise found. I signed up on a Sunday and by Wednesday had interviewed and sent a letter of offer to the successful candidate. Talk about high-quality service at lightning speed."

Phil LaColla
CEO

Alocito
"Many thanks to AdvisoryCloud for helping me find this distinguished group of board advisors. I would not have come across these individuals using my traditional network. I am already seeing how the knowledge value that each person brings to the table is positively impacting the company's direction and growth."
Cindy Engstrom
Founder and CEO

Sircle Advertising
"AdvisoryCloud is the best resource available for access to high-caliber board candidates. We needed a very specific skill set and expertise for our company. AdvisoryCloud delivered well matched candidates quickly so that I could get back to growing our business."